Safety comes first
You are determined to have a great experience with lots of fun, relaxation and joy. But before sailing make sure the below checklist for everyones safety: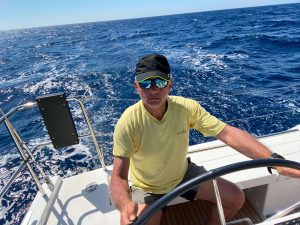 Fire Extinguishers and where they are located
Blanket fire extinguisher (place it near the oven)
Flares
Life Raft
Sufficient Fuel
First Aid Kit
EPIRB
About sailing
Before going sailing, you should know some major things like how a sailboat works, learn important terminology, and do some research on your destination. The preparation should also include understanding weather conditions on your trip and the direction of the wind. You will be sailing, so it is good to learn few things for yourself, for instance, how far away is your first destination and having in mind that the boat will have an average speed of 8 knots, how long will it take to get there. 
Check the plotter and the map, search for rocks or dangerous spots you should avoid and tell the captain. The captain normally knows but you never know. 
Even if you are not sailing the boat, you can be a valuable part of the crew if things go wrong.