Syros, unlike most islands, has an amazing variety of attractions. It has something for everyone! So if your time is limited when visiting Greece, choose Syros.
Here are some reasons why Syros is the best Greek island to visit.
It has a vibrant main town – Ermoupoli.
When you want a break from the beach, it's great to have a real town to visit.
More than 20.000 people live in Syros all year. It is the administrative capital of the Cycladic Islands, so there are real shops, great restaurants, serious cultural events, and high-standard facilities. The town was the Greek capital for many years and has been inhabited by Romans, Arabs, Franks, and Venetians. The main town is mostly neoclassical, with exquisite squares, marble buildings, and sea views.
Wonderful beaches without the crowds most Greek islands have. But in the summertime, the more popular islands are usually packed with tourists.
Syros has some beaches that can get busy, especially those that have beachside tavernas and coffee shops. But it also has quiet sandy beaches, remote bays, and secluded swimming spots.
All of Syros' beaches are Blue Flag standard (highest rating for cleanliness and safety).
Easy to reach.
Syros is at the heart of the Cyclades, and the first stop on the ferry out of Athens (3.5 hours only). Mykonos is only 45 mins away. Tinos 30 mins away, and Santorini, Naxos, and Paros are all easy to reach from Syros. It is an ideal base for island hopping.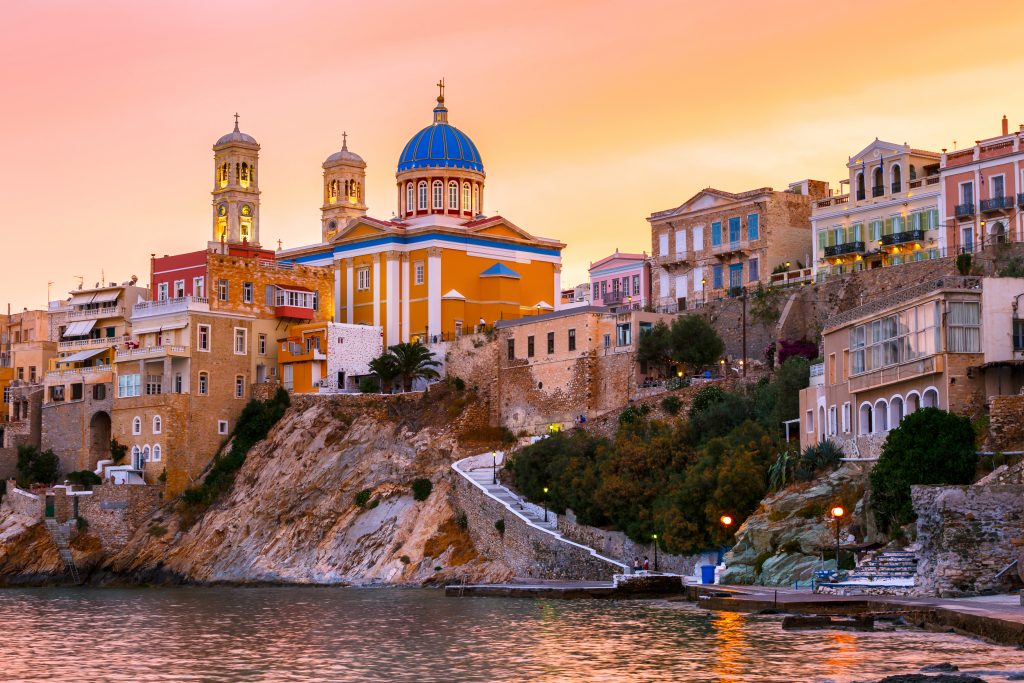 A center for the Arts and Architecture.
Syros was a wealthy significant city and experienced a Renaissance. European architects helped construct the marble streets and buildings of the main town in the late 18 and early 19th centuries.
The Apollon Theatre is a mini LaScala and is home to the annual classical musical, jazz, and contemporary music festivals.
All the arts flourish in Syros, with thriving pan-European Dance, Film, and Art collaborations. In summer you can go into town every evening, enjoy a cocktail, a music or dance event, then dine out in one of many amazing restaurants.
The Home of Rebetiko Music.
The distinctive local music, Rebetiko, began in the medieval town of Ano Syros where Markos Vamvakaris was born. Rebetiko is known as the "Greek blues."
Each summer musicians from all over Greece gather in Ano Syros in a month-long festival of traditional Greek bouzouki playing.
Warm summer nights high up over the town, the medieval streets and cafes of Ano Syros echo with the music of Vamvakaris.
Great Food and World Class Chefs.
Greek food is clean and simple, traditionally using fewer carbohydrates and meat than other diets.
A typical Greek meal will include bitter greens (horta), dried beans (fava), a simple Greek salad, fresh sardines cooked on coals, or calamari.
Syros has a large agricultural emphasis. Most islanders grow their own vegetables and make their own wine, oil, and olives. The ingredients are fresh, local, and always in season.
More recently, young chefs have trained overseas so that the standard of experimentation and presentation has risen. There are now many excellent world standard restaurants on the island.
Geographical Info
Longitude: 24.94348   –   Latitude: 37.44277    Area: 101.9 km2
Are you ready to create new memories?