Sifnos has the most sizzling food scene in the Med right now!
Located on the western side of the Cyclades island group, Sifnos is considered the yummiest of the Greek islands, thanks to its flourishing culinary scene.
Otherthan that, Sifnos has the typical Cycladic ambiance, including whitewashed houses and chapels, innumerable dovecotes, a breathtaking natural landscape, and, of course, amazing beaches!
The moment you'll step your foot on the island, you'll feel like entering a whole new world! The island's atmosphere is deeply calming, while the air is scented with almond and orange aromas that will seduce you. The tiny whitewashed villages, the cobblestone, embellished with colorful flowers, the alleys, and the light blond sandy beaches will charm you!
Sifnos belongs to the Cyclades islands group and sits in the heart of the Aegean sea, close to Milos and Serifos islands.
Boasting the typical Cycladic architecture, Sifnos is dotted with cubic whitewashed houses, over 300 beautiful churches, dovecotes, and little earthenware shops.
What Sifnos is most famous for, is its gastronomy! Home to the famous Greek chef Nikolaos Tselementes, Sifnos has undoubtedly amazing food! You can taste the yummy local recipes, such as capper salad, chickpea soup, and mastelo at the excellent Sifnos restaurants and taverns.
One of the best things to do in Sifnos, especially if you want to experience the essence of the island, is to visit the quaint Sifnos villages. Kastro, Artemonas and Apollonia, the capital of the island are total musts! Get lost in the narrow alleys of Kastro, eat the best local pastries in Artemonas and have a taste of the cosmopolitan side of the island in Apolloni. Every village is a surprise!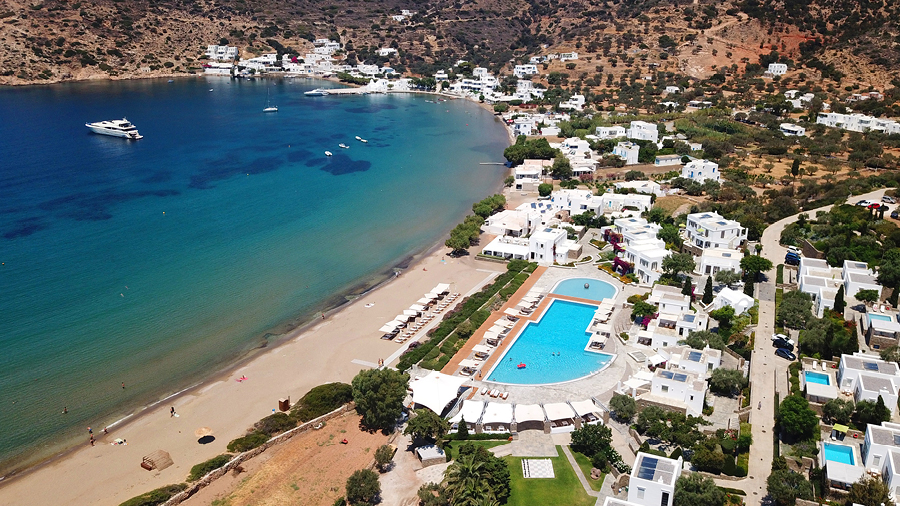 And what about Sifnos beaches? Their beauty is unreal! Escape the summer heat and take a dip at Chrisopigi beach, under the homonymous whitewashed church, at the cosmopolitan Platis Gialos, at sandy Vathi beach, following by a seafood meal, and at Kamares, where the island's port lies!
Sifnos is the most delicious Greek Island and one of the best holiday destinations to chill out and relax!
Geographical Info
Longitude: 24.67477   –   Latitude: 36.98988    Area: 73.9 km2
Are you ready to create new memories?