Poros, part of the Saronic Gulf islands along with Salamina, Aegina, Agistri, Hydra, and Spetses, is an idyllic weekend destination for Greeks and visitors alike. The island has the low-key feel of a relaxed holiday destination that makes it perfect for families but also anyone looking to explore the surrounding region, which besides the Saronic isles includes the promontory of Methana slightly to the north and Ancient Troezen on the verdant flatlands across. Nobel laureate George Seferis and Henry Miller, are just two of the notable authors who felt at peace on its shores.
The island has just one main town of white cubical houses and grander neoclassical mansions with tiled hipped roofs perched on the slopes of a hill marked by the island's emblematic clock tower. The town itself straddles an oval peninsula (technically, the smaller of the two islands that make up Poros) on the verge of a pine forest that stretches over the entire island and descends to the water's edge. The island is literally a stone's throw from the mainland and directly across the main town's alter ego, Galatas, from which a narrow and occasionally very shallow band of water separates it. To the east of the island, the sea between Poros, the valley of Troezen, and the rolling hills on the mainland has a lagoon-like quality and is perfect for water skiing and other gentler water sports, including scuba diving.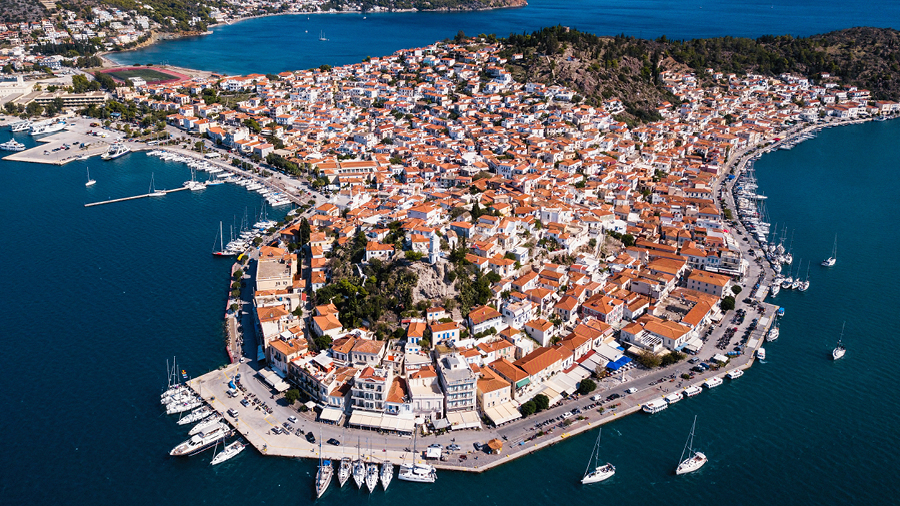 The main town is the island's single community and is well worth a tour for its architectural gems like the town's clock tower. Askeli, Megalo Neorio, Mikro Neorio, and Perlia, the (abandoned) Russian naval base are all lovely beaches but busy with tourist depending on the time of year, as is the famous Love Bay, a small cove with crystal-clear waters and a pine tree forest in the background. Accessibility is a definite plus, but for something, more private and quiet one would need to go the extra mile elsewhere on the island's coastline, or the mainland. Alyki is diagonal across from Poros and boasts its own little island, Bourtzi, within swimming distance.
Recommended
The clock tower and a walk among the historical buildings in the main town
Zoodochos Pigi monastery
The remains of the temple of Poseidon
The citrus forest on the mainland
Ancient Troezen and Diavologefyro on the mainland
The royal tombs of Magoula on the mainland
Geographical Info
Longitude: 23.44240 – Latitude: 37.51327   Area:22.9 km2
Are you ready to create new memories?