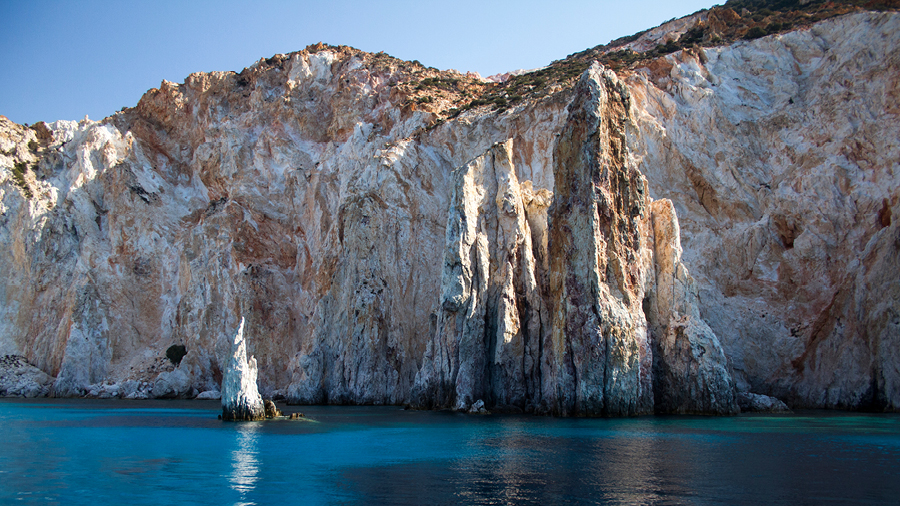 Polyegos is a small isle, half the size of Kimolos and at a short distance of approx. one mile. This is the best-preserved geological island in the Aegean. The vegetation of the island (mainly maquis and brushwood) grows smoothly and undisturbed with its animal wealth (seal Monachus-monachus, rare reptiles and birds, goats, etc.).
Polyegos is particularly important scientifically and ecologically and has joined the Natura 2000 European project.
In the center of the island, there is a small valley with an old settlement and an old cast mine. There is a church of "Kimissis Theotokou", which was part of a monastery founded in 1622, now lying in ruins.
There are plenty of beaches for visitors to swim to. Once on the island, you can swim at Pano Mersini, at Kato Mersini, at Armoura or at Panagias Avlaki. Visit the lighthouse and Diamantospilia (a cave with fine crystal quartz and other nice minerals). If you are lucky, you will meet some flocks of wild goats. Sail around the island with a boat and enjoy the unforgettable scenery.
Geographical Info
Longitude: 24.61388   –   Latitude: 36.76706    Area: 18.1 km2
Are you ready to create new memories?