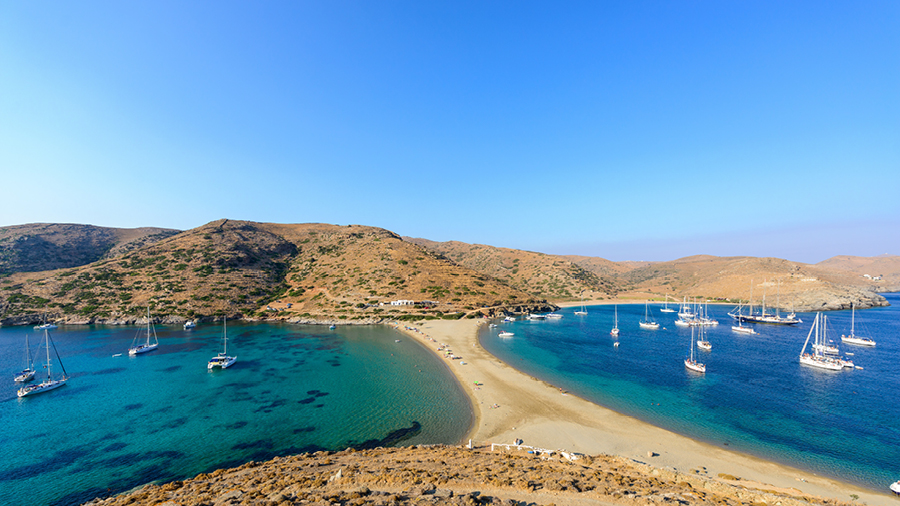 Kythnos is a beautiful island located on the west part of the Cyclades island group. Boasting a wild natural mountainous landscape with elegant architecture and a selection of stunning beaches, Kythnos one of the most beautiful Greek islands. Thanks to its proximity to Athens, is a popular destination for quick getaways from the Greek capital. Kythnos is also a perfect base for island hopping to the nearby islands of Kea, Serifos, and Sifnos.
The coastline of Kythnos is dotted with 99 in total stunning beaches, some organized and some unspoiled, but all suitable for swimming. As for the villages, they have a unique traditional charm! Chora Kythnos and Driopida stand out for their traditional architecture and their narrow streets, while Loutra Kythnos and Merihas have the most tourist facilities.
Kythnos has some quaint villages, including Chora Kythnos (the island's capital), Driopida, and Loutra Kythnos. The villages stand out for their elegant architecture, whitewashed houses embellished with flowers, traditional taverns, windmills, fountains, and a general laid-back atmosphere. Do not miss a visit to Loutra where you can relax and swim beside the warm water gushing from the seashore soil and have dinner in a traditional fish tavern right on the beach!
Geographical Info
Longitude: 24.39634   –   Latitude: 37.39052    Area: 100.2 km2
Are you ready to create new memories?