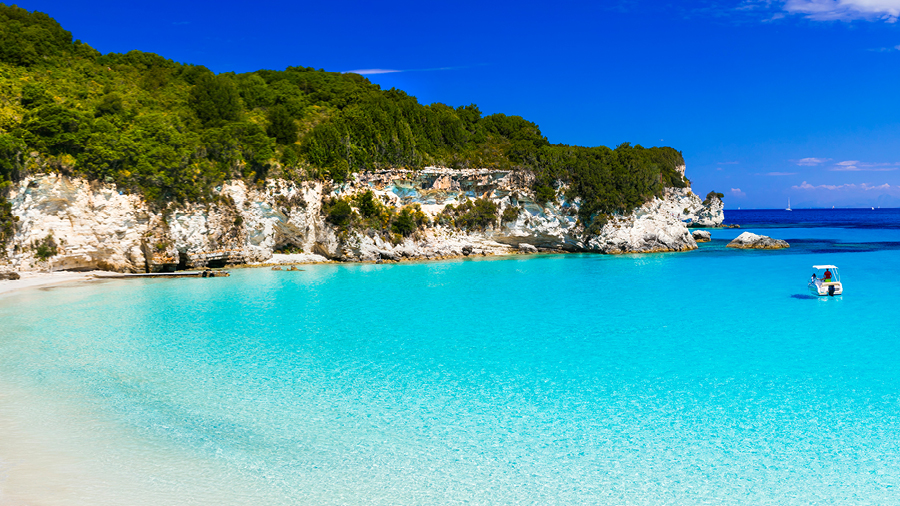 Most stunning beaches anywhere in the Mediterranean!
Antipaxos (also called Antipaxoi) is a tiny place (only 4km long), totally unspoiled, and truly the place to relax if you really want to get away from it all. There are no shops (those staying at our villas on the island can order deliveries of supplies), no real roads, only a couple of tavernas, and just a scattering of houses. Antipaxos is all about peace and quiet and glorious beaches, such as those at Vrika and Voutoumi, famous for their transparent waters and breathtaking settings. Boats bring in day-trippers once a day from nearby Paxos, but once the last boat has left in the late afternoon, total tranquillity falls on the island, the sunsets and the stars and moon shine brightly in the night skies. Apart from its beaches, Antipaxos is home to some beautiful chalk-white stretches of coastline, a host of olive groves, and a large vineyard, which produces some excellent wine… a glass of this at sundown on the terrace of your villa, looking out to sea is one of the most relaxing things you will ever do!
Geographical Info
Latitude: 39.15327  – Longitude: 20.23294    Area: 4.1 km2
Are you ready to create new memories?